A Dickens Chronology
Please refer to Norman Page, A Dickens Chronology (London: Macmillan, 1988) for further details.
Dickens Biographies on the Web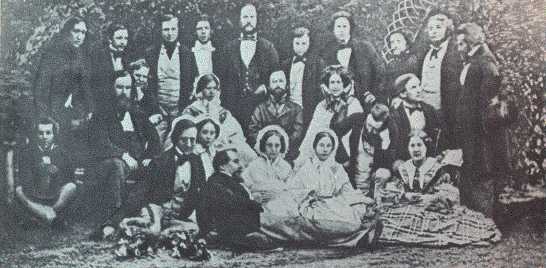 The Dickens Dramatical Comapany in 1854

William Telbin, Evans, Shirley Brooks, Mark Lemon Junior, W. Jones, E. Evans, Marcus Stone, Fr. Berger, Mark Lemon, Augustus Egg
Albert Smith Stanfield, Miss Evans, E. Pegott, Mrs Francis, Luard
Keith, C. Dickens Junior, Kate Dickens, Miss Hogarth, Mary Dickens, Wilkie Collins, Helen Hogarth
Charles Dickens
---
Please refer to Norman Page, A Dickens Chronology (London: Macmillan, 1988) for further details.
---
1812

Charles John Huffam Dickens born 7 February at Landport (Portsmouth). Father: John Dickens, clerk, Navy Pay Office, son of butler and housekeeper, Crewe Hall. Mother: Elizabeth Barrow, daughter of senior clerk, Navy Pay Office. Brothers and sisters living to adulthood (two d. in infancy): Frances ("Fanny"), b. 1810; Letitia, b. 1816; Frederick, b. 1820; Alfred, b. 1822; Augustus, b. 1827.

1814-22

John Dickens transferred to London 1814, to Chatham (near Rochester) 1817, back to London late 1822. CD at school in Chatham 1821-22. Family settles winter 1822-23 at Camden Town, northern suburb of London.

1824

Increasing financial difficulty; CD put to work at shoe-blacking warehouse February-June. John Dickens imprisoned for debt during spring; family (except CD) joins him in Marshalsea Prison lodgings.

1824-27

Day pupil at Wellington House Academy, London.

1827-28

Solicitor's clerk; studies shorthand.

1829-31

Free-lance reporter at Doctors Commons courts. Regular reader at British Museum from eighteenth birthday for several years. Meets Maria Beadnell (1830). Studies acting.

1831-32

Shorthand reporter of Parliamentary proceedings for Mirror of Parliament (from 1831 or early 1832). Reporter for evening newspaper True Sun March-July 1832. Bad cold prevents theater audition. Beadnells send Maria to finishing school in Paris 1832.

1833

Break with Maria Beadnell in May. First published story, "A Dinner at Poplar Walk," December (eight more publ. in Monthly Magazine January 1834-February 1835.)

1834

Reporter for Morning Chronicle from August; publishes there and elsewhere. Moves to Furnival's Inn, Holborn.

1835

Engaged to Catherine Hogarth, daughter of George Hogarth, editor of Evening Chronicle.

1836

Sketches by Boz (first series) publ. February. Pickwick Papers begins publication in monthly parts April (continues through November 1837). CD marries Catherine Hogarth 2 April; sixteen-year-old sister Mary Hogarth comes to stay with them at Furnival's Inn. Plays produced: The Strange Gentleman and The Village Coquettes. Leaves Morning Chronicle November, accepts editorship of new monthly Bentley's Miscellany. Sketches by Boz (second series) publ. December. First meeting with John Forster December.

1837

PP continues through November; publ. in 1 vol. November (CD's regular practice on completion of serial publication; mention omitted hereafter). Son Charles Culliford Boz born 6 January (other children and birthdates: Mary 1838, Kate Macready 1839, Walter Landor 1841, Francis Jeffrey 1844, Alfred Tennyson 1845, Sydney Smith1847, Henry Fielding 1849, Dora Annie 1850 [d. 1851], Edward Bulwer Lytton 1852). Oliver Twist begins monthly in Bentley's Miscellany February (continues through April1839). CD moves to house at 48 Doughty St. April (now Dickens House, home of Dickens Fellowship). Mary Hogarth dies 7 May; PP and OT suspended one month.

1838

OT continues in BM. CD travels in Yorkshire February. Mary (Mamie) born 6 March. Nicholas Nickleby begins in monthly parts April (continues through October 1839). OT publ. in 3 vols. November (before completion of serial publication).

1839

OT continues in BM through April. NN continues through October. CD resigns editorship of BM in January. Planning begins July for weekly periodical edited by CD. Kate born 29 October. CD moves to 1 Devonshire Terrace, York Gate, Regent's Park December (family home until1851).

1840

First number of Master Humphrey's Clock 4 April. The Old Curiosity Shop begins in MHC 25 April (continuously from 16 May through 6 February 1841). MHC, vol 1, publ. October.

1841

OCS continues through 6 February. Walter born 8 February. Barnaby Rudge begins in MHC 13 February (continuing weekly through final part 27 November). MHC, vol.2, publ. April. CD travels in Scotland with Catherine June-July; decides (September) to visit United States. One-vol. editions of

OCS and BR publ. December (also MHC, vol.3).

1842 CD travels with Catherine in United States and Canada January-June. Catherine's fifteen-year-old sister Georgina becomes permanent member of CD household. American Notes publ. in 2 vols. October.

1843

Martin Chuzzlewit begins in monthly parts January (continues through July 1844). November CD tells Forster of intent to go abroad for extended period. A Christmas Carol publ. December.

1844

MC continues through July. Francis (Frank) born 15 January. Early discussions of a new periodical (spring). CD family to Italy July, settling in Genoa. CD travels in Italy November; in London December to read The Chimes to friends. The Chimes (Christmas book) publ. December. CD leaves publishers Chapman and Hall for Bradbury and Evans.

1845

CD travels with Catherine in Italy January-April; family returns to London July. Idea for weekly periodical (title The Cricket) July. Manages and performs in amateur production of Jonson's Every Man in His Humour September. Alfred born 28 October. CD agrees November to edit new daily newspaper. The Cricket on the Hearth (Christmas book) publ. December.

1846

First number of Daily News, edited by CD, publ. 21 January; CD resigns 9 February. Pictures from Italy publ. May. CD family goes abroad May, settling at Lausanne, Switzerland, moving to Paris November. CD begins writing Dombey and Son June. D&S begins in monthly parts October (continues through April 1848). The Battle of Life (Christmas book) publ. December.

1847

D&S continues. CD family returns to London February. Sydney Smith born 18 April. CD provides active advice and superintendence for establishment by heiress Angela Burdett-Coutts of Urania Cottage, for helping prostitutes begin new lives abroad. (CD collaborates with Miss Coutts in this and many other welfare projects for the next dozen years.) Cheap Edition of CD's works begun (in weekly numbers and complete volumes).

1848

D&S continues through April. CD directs, acts in amateur theatricals May-July in London, Manchester, Birmingham, Edinburgh, Glasgow. Sister Fanny (Mrs. Henry Burnett) dies of TB September. The Haunted Man (last Christmas book) publ. December.

1849

Henry Fielding born 15 January. David Copperfield begins in monthly parts May (continues through November 1850). Letters to Times November protesting public hangings. The Life of Our Lord written for CD's children (unpubl. until 1934). Thinking again of weekly miscellany toward end of year.

1850

DC continues through November. First number of weekly Household Words 30 March. Heavy editorial work becomes part of CD's life from now on. (Subeditor W. H. Wills manages CD periodicals until ill health forces resignation 1868). Dora Annie born 16 August. Amateur theatricals November at home of novelist Bulwer-Lytton, with whom CD promotes Guild of Literature and Art.

1851

Amateur theatricals (benefits for Guild of Literature and Art) through August. Catherine in poor health from Annie dies April. CD moves to Tavistock House November (family home until 1860). Begins writing Bleak House November.

1852

Bleak House begins in monthly parts March (continues through September 1853). Edward Bulwer Lytton (Plorn) born 13 March. CD works with Miss Coutts on low-income housing. Amateur theatricals.

1853

BH continues through September. CD family in Boulogne summer. CD completes A Child's History of England September (running in HW since early 1851). Tours Italy with Augustus Egg and Wilkie Collins October-December. Gives first public reading (a benefit) from his novels December in Birmingham. CHE publ. complete December.

1854

Hard Times begins weekly publication in HW 1 April (to bolster slipping circulation); continues through 12 August. CD family in Boulogne summer and early fall.

1855

Maria Beadnell (now Mrs. Henry Winter) writes CD February; CD disillusioned when they meet. CD begins writing Little Dorrit May. Amateur theatrical production of Collins's The Lighthouse June. CD family to Paris October. Little Dorrit begins in monthly parts December (continues through June 1857).

1856

LD continues. John Forster marries. Negotiations concluded March for purchase of Gad's Hill Place near Rochester. CD returns to London April, family to Boulogne in June (until August). CD-Collins collaboration on play The Frozen Deep completed October.

1857

LD continues through June. Library Edition of CD's works begun. The Frozen Deep performed January in Tavistock House. Gad's Hill renovated; CD family to Gad's Hill for summer. Hans Christian Andersen visits CD June-July. Son Walter (age sixteen) to India as cadet in East India Co. regiment July. The Frozen Deep revived in July, special performance for queen; Ellen Ternan joins cast for August performance in Manchester. CD to Scotland with Collins September. Letter to Forster (August/September) discusses incompatibility of CD and Catherine. CD considers public readings for pay.

1858

First series of public readings by CD from his own works opens 29 April. Separation from Catherine, with considerable publicity and bitterness. Quarrel with Thackeray. First provincial readings August-November, more London readings begin 24 December.

1859

London readings continue to February. CD begins new weekly All the Year Round 30 April, closes HW down 28 May. Breaks with Bradbury and Evans, returns to Chapman and Hall. A Tale of Two Cities (begun in AYR opening number) continues weekly through 15 November. Public readings October and at Christmas.

1860

Essays (The Uncommercial Traveller) in AYR January-October. Son Sydney appointed naval cadet January. Daughter Kate marries Charles Collins (Wilkie's brother) 17 July. Brother Alfred dies 27 July. September: CD sells Tavistock House, moves to Gad's Hill; burns quantities of personal letters; begins writing Great Expectations. Begins publishing GE in AYR 1 December to stem fading circulation.

1861

GE continues through 3 August. Public readings in London March-April. Sister Letitia's husband (Henry Austin) dies October. Public readings in provinces begin October (some readings canceled December on Prince Albert's death). Son Charles marries Bessie Evans (daughter of CD's former publisher) November.

1862

Public readings continue through January. Readings in London March-June. CD decides against Australian reading tour. To Paris October.

1863

Public readings in Paris January and London March-June. Mother Elizabeth Dickens dies 13 September. CD agrees late September to begin new novel in the spring. Reconciled with Thackeray a week before Thackeray's death December. Son Walter dies in India 31 December.

1864

Son Frank to India January to enter Bengal Mounted Police. Our Mutual Friends begins publishing in monthly parts May (continues through November 1865). CD's health poor; suffering from lameness (probably gout) at end of year.

1865

OMF continues through November. Son Alfred emigrates to Australia May. CD and Ellen Ternan, returning from Paris holiday, in train wreck 9 June; CD badly shaken up.

1866

Public readings in England and Scotland April-June; CD agrees to another series of fifty. Brother Augustus dies in Chicago October.

1867

Charles Dickens Edition begun. Public readings in En-CD unwell but continues. gland and Ireland January-May; Agrees September to American reading tour. Farewell dinner in London 2 November. CD sails 9 November. American tour opens in Boston December. CD's health worsens. Plans another tour in England for fall 1868.

1868

American readings continue through April in major east coast cities. CD's health very bad. Profits total nearly19,000. CD returns to England April. Bad health forces subeditor Wills's retirement summer; CD takes over AYR duties. Son Edward emigrates to Australia September. Son Henry to Cambridge University October. New series of readings begins 6 October. Brother Frederick dies October. CD gives sensational new reading (death of Nancy in OT) to private audience 14 November.

1869

Readings continue in England, Scotland, and Ireland. CD shows symptoms of stroke; provincial series discontinued 20 April by doctor's orders. CD draws up will in May. Begins writing Mystery of Edwin Drood late summer-early fall.

1870

Final series of readings, all in London, 11 January-15 March. Private audience with queen mid-March. Mystery of Edwin Drood begins in monthly parts April (continuing as far as written through September). Work and social life as usual in May. CD directs private theatrical production late May-early June. Suffers stroke 8 June at Gads Hill after full day's work. Dies 9 June. Buried West Minster Abbey 14 June.
This extract is taken from Harland S. Nelson, Charles Dickens [Boston: Twayne Publishers, 1981]
---
Dickens Biographies on the Web