Benjamin Disraeli (1804-81)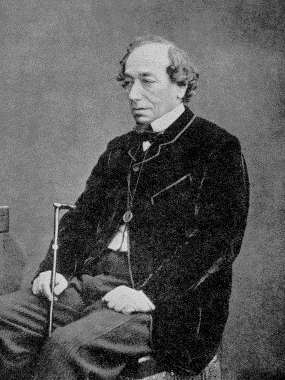 The Disraeli Project
(Queen's University at Kingston, Canada)
Disraeli Web Sites

Chronology
1804

Benjamin Disraeli born on Friday, December 21, to Isaac and Maria D'Israeli.

1817

Baptized into the Church of England, July 31.

1821

Begins three years with a firm of solicitors in London; speculates in stock market.

1825

Makes abortive attempts at launching a journalistic career with The Representative; loses money in mining venture and heavily in debt.

1826

Publication of Vivian Grey; friendship with the Austens, who were instrumental in aiding Disraeli's literary career.

1827

Publication of the sequel to Vivian Grey.

1831

Publication of The Young Duke; Disraeli visits Jerusalem.

1832

He meets Mrs. Wyndham Lewis; publication of Contarini Fleming; twice in this year Disraeli is defeated as an Independent parliamentary candidate from Wycombe.

1833

Publication of Alroy.

1835

Disraeli defeated again at Wycombe; he joins the Conservative Party; at Taunton, Disraeli suffers another defeat, this time as a Tory; publication of The Vindication of the English Constitution.

1836

Publication of the "Letters of 'Runnymede'"and The Spirit of Whiggism.

1837

Publication of Henrietta Temple and Venetia; Disraeli elected with Wyndham Lewis as MP from Maidstone; gives maiden speech in Parliament (December 7); votes for the repeal of the Poor Law.

1838

Wyndham Lewis dies; Disraeli attends Queen Victoria's coronation.

1839

Disraeli gives great speech on Chartism; marries Mrs. Wyndham Lewis.

1843

He leads the "Young England party" in Parliament.

1844

Publication of Coningsby; opposes new Poor Law and supports Factory Reform Laws; delivers the "Young England Manifesto" at Manchester Athenaeum to an enormous audience. ("It was the culminating point in the glory of Young England"-Monypenny.)

1845

Publication of Sybil.

1846

Disraeli attacks the Corn Law; attacks Peel and supports the Whigs.

1847

Publication of Tancred; his mother dies; speaks on Jewish disabilities laws, insisting (as he does in Tancred) that there is an intimate and binding relationship between Judaism and Christianity.

1848

His father dies.

1851

Lord George Bentinck: A Political Biography.

1852

Chancellor of the Exchequer; Ministry defeated.

1853

Receives an honorary degree from Oxford.

1858

Chancellor of the Exchequer once again.

1859

Ministry defeated.

1866

Again Chancellor of the Exchequer.

1868

Becomes Prime Minister; his Ministry defeated; Mrs. Disraeli made a peeress, Viscountess Beaconsfield.

1870

Publication of Lothair; collected edition of his works, with General Preface, begins to appear in November.

1872

Lady Beaconsfield dies.

1874

Prime Minister (1874-1880); offers a baronetcy to Tennyson and the Grand Cross of the Order of the Bath to Carlyle. Both refuse.

1875

Majority of shares in the Suez Canal Company purchased.

1876

Gives last speech in the House of Commons; accepts peerage and is the first Earl of Beaconfield.

1880

Conservatives are defeated and Disraeli gives up the Prime Ministership; publication of Endymion.

1881

Dies on Tuesday, April 19.
(This extract is taken from Richard A. Levine, Benjamin Disraeli [New York: Twayne Publishers, Inc., 1968])
---
Last updated: 9 April 2004.

Top of Page

Mitsuharu Matsuoka's Home Page