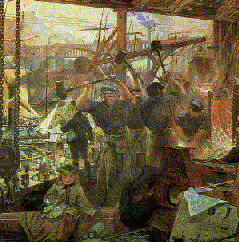 Mary Barton
(1848)
---
William B. Scott, Iron and Coal, The National Trust
---

E-text
I wish to express my deepest indebtedness to Mr. Michael Larsen (University of Pennsylvania), who was kind enough to add the finishing touches to this e-text with his own original spell-checker.

This e-text and HTML documents are so devised that they can afford a proof of my own drawing up.
---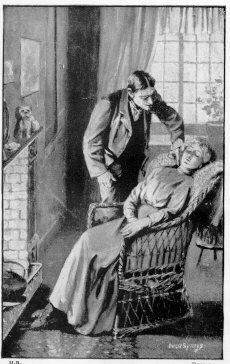 (Mary Barton, Chapter V)
So Mary and Margaret grew in love one toward the other; and Mary told many of her feelings in a way she had never done before to any one. Most of her foibles also were made known to Margaret, but not all. There was one cherished weakness still concealed from every one. It concerned a lover, not beloved, but favoured by fancy. A gallant, handsome young man; but - not beloved. Yet Mary hoped to meet him every day in her walks, blushed when she heard his name, and tried to think of him as her future husband, and above all, tried to think of herself as his future wife. Alas! poor Mary! Bitter woe did thy weakness work thee.
She had other lovers. One or two would gladly have kept her company, but she held herself too high, they said. Jem Wilson said nothing, but loved on and on, ever more fondly; he hoped against hope; he would not give up, for it seemed like giving up life to give up thought of Mary. He did not dare to look to any end of all this; the present, so that he saw her, touched the hem of her garment, was enough. Surely, in time, such deep love would beget love.
He would not relinquish hope, and yet her coldness of manner was enough to daunt any man; and it made Jem more despairing than he would acknowledge for a long time even to himself.
But one evening he came round by Barton's house, a willing messenger for his father, and opening the door saw Margaret sitting asleep before the fire. She had come in to speak to Mary; and worn out by a long, working, watching night, she fell asleep in the genial warmth.
An old-fashioned saying about a pair of gloves came into Jem's mind, and stepping gently up, he kissed Margaret with a friendly kiss.
She awoke, and perfectly understanding the thing, she said, "For shame of yourself, Jem! What would Mary say?"
Lightly said, lightly answered.
"She'd nobbut say, practice makes perfect." And they both laughed. But the words Margaret had said rankled in Jem's mind. Would Mary care? Would she care in the very least? They seemed to call for an answer by night and by day; and Jem felt that his heart told him Mary was quite indifferent to any action of his. Still he loved, on and on, ever more fondly.



Top of Page

Mitsuharu Matsuoka's Home Page