George Eliot (Mary Anne Evans)
(1819-80)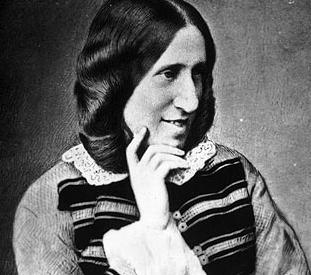 ---
It seems to me we can never give up longing and wishing while we are thoroughly alive. There are certain things we feel to be beautiful and good, and we must hunger after them. (The Mill on the Floss, bk. 5, ch. 1)
What do we live for, if it is not to make life less difficult to each other? (Middlemarch, bk. 8, ch. 72)

---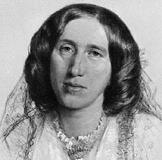 George Eliot Websites
---
Blessed is the influence of one true, loving human soul on another. (Scenes of Clerical Life ch. 197)
---
Works (Wikipedia)
---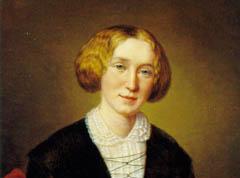 Chronology
1819

Mary Ann Fvans born 22 November at Arbury Hall Farm moves to Griff a few months later.

1828

Mrs. Wallington's School; meets Maria Lewis, the principal teacher.

1832

Misses Franklin's School; learning French.

1836

Mother dies, goes home to keep house at Griff for her father.

1838

Undertakes chart of ecclesiastical history.

1840

Learning Italian and German with a tutor; also studying Latin; publishes first creative work, a poem in the Christian Observer.

1841

Moves with father to Bird Grove, Foleshill, a location near Coventry; meets Charles Bray and his wife, Caroline Hennell Bray, on 2 November.

1842

Translating bits of Spinoza for Charles Bray, parts of both the Tractatus theologico-politicus and the Ethics.

1843

Studying Greek.

1844

Begins translating Strauss's Das Lehen Jesu (The Life of Jesus); studying Hebrew.

1846

Strauss translation published.

1849

Translating Spinoza's Tractatus as a calming occupation during her father's last illness; Robert Evans dies in June; Mary Ann travels with Brays to Europe and remains in Geneva for eight months, five of them with the D'Albert Durades.

1851

Reviews Mackay's Progress of the Intellect for Westminster Review; meets Herbert Spencer.

1852

Meets Bessie Parkes and Barbara Leigh-Smith (later Madame Barbara Bodichon); 1 January, publication of the first issue of Westminster Review under her editorship; friendship with Lewes; translating Feuerbach's Das Wesen des Christentums (The Essence of Christianity).

1853

Moves from Chapman's to her own lodgings.

1854

Feuerbach translation published end of June; leaves with George Henry Lewes for Weimar, 20 July; begins translating Spinoza's Ethics, 3 November.

1856

Finishes translating Spinoza's Ethics. 19 February; begins "The Sad Fortunes of Rev. Amos Barton," 23 September.

1857

Scenes of Clerical Life begun in Maga (Blackwoods Magazine) under pseudonym George Eliot; 22 October, begins Adam Bede.

1858

Scenes of Clerical Life published in two volumes by Blackwood.

1859

Adam Bede published by Blackwood in three volumes, 1 February; sister Chrissey dies, 15 March; second edition of Adam Bede in March and a second impression of this edition in April; begins The MilI on the Floss; third edition of Adam Bede in June and a second impression in July, a third in August, a fourth in October.

1860

Italian journey with Lewes in March; Mill on the Floss published by Blackwood in three volumes in April and runs to a third impression by May; begins Silas Marner, 30 September, finishes 10 March 1861.

1861

Silas Marner published by Blackwood in April; begins Romola in October.

1862

Romola begins in Cornhill Magazine in July (runs for fourteen monthly installments).

1863

Romola published in three volumes by Smith, Elder and Co.; Eliot and Lewes buy the Priory, 21 North Bank, Regent's Park.

1864

Starts with Lewes and F. W. Burton for Italy; studies Spanish.

1865

January holiday in Paris; has begun Felix Holt, the Radical by March; excursion in November to Brittany.

1866

Felix Holt published by Blackwood in June; starts with Lewes for Holland, Belgium, and Germany; in December travels to Spain.

1867

With Lewes in Germany.

1868

The Spanish Gypsy published by Blackwood, 25 May; with Lewes in Germany and Switzerland.

1869

Travels with Lewes to Italy in Match; meets John Walter Cross in Rome, April; begins Middlemarch August; Thornton Lewes dies 19 October.

1870

In Germany and Austria with Lewes; experimenting with "Miss Brooke" in December.

1871

Acutely ill for a month; Middlemarch, book 1, published by Blackwood in the first of eight monthly parts ending in December 1872, when it was published in three volumes.

1872

Ill in January; in Germany with Lewes, September and October; ill in December.

1873

Holiday in France and Germany from June through August; studies Jewish subjects; Thornton Hunt dies in June.

1874

Lewes reads opening chapters of Daniel Deronda in June; holiday with Lewes in France and Belgium in October; two excursions in Wiltshire.

1875

Herbert Lewes (Bertie) dies in Natal.

1876

Daniel Deronda, book 1, published by Blackwood, 1 February, in the first of eight monthly parts through September; to France and Switzerland with Lewes, June, July, and August; Daniel Deronda published in four volumes in September; purchases the Heights at Witley with Lewes, December.

1878

Lewes very ill in June, worse in October and November, dies 22 December.

1879

Working on Lewes's Problems of Life and Mind; John Blackwood dies in October.

1880

Marries John Walter Cross in May; trip to Continent; moves to 4 Cheyne Walk, 3 December; dies 22 December.
* This extract is taken from Elizabeth Deeds Ermarth, George Eliot (Boston: Twayne Publishers, 1985).
---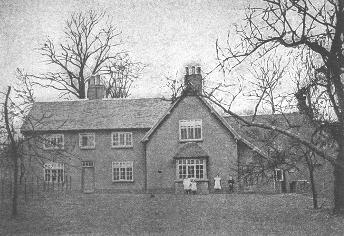 George Eliot's Birthplace, South Farm.
---
Last updated: 29 December 2012.