Charles Reade (1814-1884)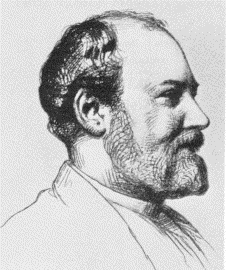 Reade Web Sites
Chronology
1814

Charles Reade born June 8, Ipsden House, Oxford.

1831

Matriculates at Oxford University; wins demyship at Magdalen College, July 26.

1835

Graduates with third in Greats, June 18. July 22, becomes probationary fellow at Oxford. Entered at Lincoln's Inn, November 20.

1838

Receives Master of Arts degree, April 26.

1851

Publishes dramatic version of Tobias Smollett's Peregrine Pickle at his own expense. Becomes vice-president of Magdalen College. In April, begins Masks and Faces in collaboration with Tom Taylor. Produces The Ladies' Battle at Olympic Theatre, May 7. Angelo presented at Olympic Theatre, August 11.

1852

A Village Tale (Rachel the Reaper), Strand Theatre, April 12. The Lost Husband presented at the Strand, April 26. Finishes Peg Woffington at Durham, August 3; begins Gold. Masks and Faces presented at Haymarket Theatre, November 20. Peg Woffington published December 17; Christie Johnstone begun.

1853

Gold produced at Drury Lane, January 10.

1854

Presents Two Loves and a Life (in collaboration with Tom Taylor) at the Adelphi Theatre, March 20. Art at St. James's Theatre on April 17. The Courier of Lyons at the Princess's Theatre, June 26 (revived 1870; renamed The Lyons Mail). Opens season at St. Jamesıs Theatre in joint management with Mrs. Seymour, presenting The King's Rival (written in collaboration with Tom Taylor), October 2. Honour before Titles: or Nobs and Snobs, presented at St. James's, October
Hard at work on It Is Never Too Late to Mend. Reade becomes lodger of Mrs. Seymour in the fall. Adapts Les Pauvres de Paris, by Edouard Brisebarre and Eugne Nus, retitled Poverty and Pride.

1856

The First Printer (collaboration with Torn Taylor) presented at Princess's Theatre, March 3.

1857

White Lies appears as serial in London Journal, July 11 to December 5 (published, 3 volumes, December).

1858

Writes Love Me Little, Love Me Long (published, 2 volumes, April, 1859). Begins The Eighth Commandment (published July, 1860). The Hypochondriac takeN on tour by Mrs. Seymour.

1859

Writes A Good Fight (serial in Once a Week, July to October). Visits Edward Bulwer-Lytton at Knebworth in November.

1861

The Cloister and the Hearth published, October.

1863

Hard Cash appears in Charles Dickens's magazine All the Year Round, March to December (published in 3 volumes, December 15).

1865

It Is Never Too Late to Mend first presented at the Princess's Theatre, October 4.

1866

Griffith Gaunt appears as serial in the Argosy, January to November (published, 3 volumes, October).

1867

Dora presented at the Adelphi Theatre, June 1. The Double Marriage presented at the Queen's Theatre, October 24. Produces Griffith Gaunt at Newcastle in the fall.

1868

Finishes Foul Play (in collaboration with Dion Boucicault), which appears serially in Once a Week, January to June (published June). Foul Play (Boucicault and Reade dramatic version) presented at Holborn, May 28, Leaves Bolton Row, lodging temporarily at St. George's Road, Pimlico.

1869

Put Yourself in His Place appears serially in Cornhill, March, 1869 to July, 1870 (published in June). Moves to 2 Albert Terrace, Knightsbridge.

1870

Makes dramatic version (Free Labor) of novel Put Yourself in His Place. The drama, which later reverie(] to the novel title, plays at the Adelphi, May, 28, The Robust Invalid presented at the Adelphi, June 15.

1871

A Terrible Temptation appears serially in Cassell's Magazine, beginning in the April issue (published August). An Actress of Daylight presented at St. Jamesıs Theatre, April 8. Begins A Simpleton at Oxford.

1872

Produces Shilly-Shally (dramatic version of Anthony Trollope's Ralph the Heir) at the Gaiety Theatre, April 1. A Simpleton appears serially in London Society, August, 1872, to August, 1873 (published August, 1873). The Wandering Heir published in tile Graphic at Christmas. Takes libel action against the Morning Advertiser and other newspapers.

1873

Produces dramatic version of The Wandering Heir at the Queen's Theatre, November 15.

1874

Brings Ellen Terry out of retirement to play ill London and take Our Seamen on tour. Rachel the Reaper presented at the Queen's Theatre, March 9. A Hero and a Martyr appears in the Pall Mall Gazette.

1875

Writes The Rights and Wrongs of Authors.

1876

Good Stories of Man and Other Animals appears in Belgravia from June, 1876, to June, 1877. A Woman-Hater appears serially in Blackwood's from June, 1876, through June, 1877 (published, 3 volumes, June, 1877).

1877

The Scuttled Ship presented at the Olympic, April 2. Writes Hang in Haste, Repent at Leisure and wins the reprieve of the alleged Penge murderers. The Jilt: A Novel appears March to June in Belgravia. The Lyons Mail presented at the Lyceum, May 19.

1878

Writes Private Bills and Public Wrongs and The History of an Acre ill agitation against demolition of Albert Terrace. Publishes pamphlet defending his dramatic adaptation of Alfred Tennyson's poem Dora. Jealousy presented at the Olympic, April 22. Joan (dramatic version of Mrs. Hodgson Burnett's That Lass o' Lowrie's) produced at Liverpool in September and then taken on tour.

1879

Drink at the Princess's Theatre. Disputes with E. Romaine Callender over production rights. Mrs. Seymour dies September 27. In December meets the Reverend Charles Graham, clergyman influential in Reade's last days.

1881

Moves to 3 Blomfield Villas, Uxbridge Road. Writes Singleheart and Doubleface and some short stories.

1882

Singleheart and Doubleface produced at the Royal Princess's Theatre, Edinburgh, June 1. Love and Money, his last venture in theatrical management (in collaboration with Henry Pettitt), presented at the Adelphi, November 18.

1883

Nance Oldfield presented at the Olympic, February. 24. Almost fatally ill in March; spends summer on the Continent. Last visit to a theatre on August 4. Finishes A Perilous Secret; writes Bible Characters. Goes to Cannes in early December.

1884

Returns to London in late February. Dies on Good Friday, April 11, at 3 Blomfield Villas. Singleheart and Doubleface published.
This extract is taken from Eltone Smith, Charles Reade (Boston: Twayne Publishers, 1976)
When you find any other Web sites related to the life and works of Charles Reade, please e-mail me: matsuoka@lang.nagoya-u.ac.jp.
Last updated: 9 January 2001.


Top of Page

Mitsuharu Matsuoka's Home Page