William Makepeace Thackeray (1811-63)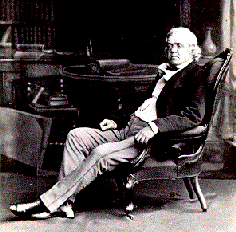 ---
The wicked are wicked, no doubt, and they go astray and they fall, and they come by their deserts; but who can tell the mischief which the very virtuous do? (The Newcomes ch. 20)
---
To endure is greater than to dare; to tire out hostile fortune; to be daunted by no difficulty; to keep heart when all have lost it; to go through intrigue spotless; to forgo even ambition when the end is gained--who can say this is not greatness? (The Virginians ch. 92)

---
Thackeray Web Sites
Chronicle of the Drum (e-text)
William Makepeace Thackeray: A Brief Biography (Robert Fletcher)
Vanity Fair
---
Chronology
1811

Born July 18 in Calcutta.

1815

Death of father.

1817

Sent to school in England.

1822-28

Attends Charterhouse School, London.

1829

Enters Trinity College, Cambridge.

1830-31

Leaves Cambridge and travels in Germany.

1831-32

Studies law in London.

1833

Loss of inheritance.

1834-35

Studies art in Paris.

1836

Marries Isabella Shawe in Paris; first article appears in The Constitutional.

1837

Moves to London where begins to write for Fraser's Magazine and where daughter, Anne, is born.

1837-38

The Yellowplush Correspondence in Fraser's.

1839-40

Catherine in Fraser's.

1840

First book published in England, The Paris Sketch Book; A Shabby Genteel Story appears in Fraser's. Daughter, Harriet Marian (Minny) born; Isabella Thackeray suffers the nervous collapse that leads to permanent insanity.

1841

The Great Hoggarty Diamond in Fraser's; 2-volume collection of Comic Tales and Sketches.

1842

First contribution to Punch.

1843

The Irish Sketch Book.

1844

The Luck of Barry Lyndon in Fraser's. Tour of Mediterranean and Mideast.

1846

Notes of a Journey from Cornhill to Grand Cairo. Daughters join Thackeray in London.

1846-47

The Snobs of England (Punch), retitled The Book of Snobs in book form (1848).

1847

Punch's Prize Novelists (retitled Novels by Eminent Hands in book form, 1856).

1847-48

Vanity Fair (January 1847--July 1848).

1848

Friendship with Jane Brookfield, wife of the Reverend William Brookfield, deepens.

1848-50

The History of Pendennis (November 1848--December 1850).

1850

Rebecca and Rowena.

1851

Lectures on humorists of eighteenth century in London (published as The English Humourists of the Eighteenth Century in 1853). Break with Jane Brookfield.

1852

The History of Henry Esmond.

1852-53

First American tour.

1855

The Rose and the Ring.

1855-1856

Second American tour, lectures on the Hanoverian kings (published as The Four Georges in 1860).

1857

Runs unsuccessfully for the Oxford seat in Parliament.

1857-59

The Virginians (November 1857--October 1859).

1859-62

Editor of Cornhill Magazine.

1860

Lovel the Widower in Cornhill.

1860-63

Roundabout Papers in Cornhill.

1863

Begins Denis Duval (unfinished, published posthumously in Cornhill in 1864).

1863

Dies December 24 in London.
This extract is taken from Ina Ferris, William Makepeace Thackeray [Boston: Twayne Publishers, 1983]
---
Last updated: 13 January 1998.
If you know any other Web sites related to the life and works of William Makepeace Thackeray, please e-mail me at matsuoka@lang.nagoya-u.ac.jp.

Top of Page

Mitsuharu Matsuoka's Home Page