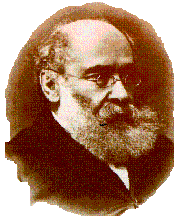 ---
Anthony Trollope
(1815-82)
---
There are worse things than a lie . . . I have found . . . that it may be well to choose one sin in order that another may be shunned. (Doctor Wortle's School ch. 6)
<= Photograph by Elliot and Fry, c. 1868.

---
Trollope Web Sites
E-texts
Ayala's Angel (http)
Ayala's Angel (ftp)
Can You Forgive Her? (ftp)
Dr. Wortle's School (ftp)
Eustace Diamonds, The (ftp)
Lady Anna (ftp)
Phineas Finn (ftp)
Phineas Redux (ftp)
Rachel Ray (ftp)
Project Gutenberg
Chronology
1815

Anthony Trollope born in Bloomsbury, London, 24 April.

1822

Sent to Harrow as day boy.

1825

Sent to private school.

1827

Sent to Winchester.

1830

Sent again to Harrow.

1834

Moves to Bruges with family.

1834

Becomes junior clerk at the General Post Office, London.

1841

Becomes Deputy Postal Surveyor at Banagher in Ireland.

1843

Begins writing The Macdermots of Ballycloran.

1844

Marries Rose Heseltine. Transfers to the Southern District of Ireland, headquartered at Clonmel.

1846

First son, Henry Merivale, born.

1847

Second son, Frederick James Anthony, born. The Macdermots of Ballycloran published.

1851

Transferred to western England.

1852

Begins writing The Warden.

1853

Returns to Ireland.

1854

Promoted to Surveyor in Northern District of Ireland.

1855

The Warden.

1857

Barchester Towers.

1858

Doctor Thorne. Travels on postal missions to Egypt and the West Indies.

1859

Begins writing Framley Parsonage for the Cornhill. Leaves Ireland and settles in England at Waltham Cross.

1860

Castle Richmond. Visits brother in Florence.

1861

Framley Parsonage. Travels on postal mission to the United States.

1862

Orley Farm.

1863

Rachel Ray.

1864

The Small House at Allington and Can You Forgive Her?

1865

Miss Mackenzie.

1866

The Belton Estate.

1867

The Claverings and The Last Chronicle of Barset. Resigns from the Post Office.

1868

Travels on postal mission in the United States. Stands unsuccessfully for seat in Parliament.

1869

Phineas Finn and He Knew He Was Right.

1871

Ralph the Heir. Gives up Waltham House and visits son Frederick in Australia.

1872

Travels in Australia, New Zealand, and the United States, and settles in London on return.

1873

The Eustace Diamonds.

1874

Phineas Redux.

1875

Travels in Ceylon and Australia. The Way We Live Now. Begins Autobiography.

1876

The Prime Minister. Finishes Autobiography.

1877

Travels in South Africa.

1878

Is He Popenjoy?

1879

John Caldigate.

1880

The Duke's Children. Moves from London to Hampshire.

1881

Dr. Wortle's School and Ayala's Angel.

1882

Travels in Ireland. Dies in London, 6 December.

1883

Mr. Scarborough's Family and the Autobiography published posthumously.
* This chronology is taken from Susan Peck MacDonald, Anthony Trollope (Boston: Twayne Publishers, 1987)
---
Three hours a day will produce as much as a man ought to write. (An Autobiography ch. 1 )
---
Last updated: 16 May 2000.
This page seeks to collect any and all useful Internet materials related to Anthony Trollope. I would gratefully appreciate any information supplied regarding Anthony Trollope on the Web.
E-mail for feedback: matsuoka@lang.nagoya-u.ac.jp.


Top of Page

Mitsuharu Matsuoka's Home Page